New £5m hotel gets approval from planners in Glastonbury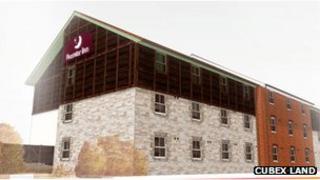 Planning permission for a £5m hotel on the outskirts of Glastonbury, Somerset, has been approved.
Mendip District Council approved the 1.83 acres (0.74 hectares) 60-bedroom, three-storey Premier Inn on land at the former Morlands factory site.
Plans for an adjoining two-storey Brewer's Fayre pub restaurant were also given the green light.
Construction of the hotel and pub is expected to start later this year. It is hoped 65 new jobs will be created.
The Street Road site was previously operated as a sheepskin factory and the Morlands and Baileys tanneries.
The tanneries closed in 1982 and 1992 respectively and the site has been derelict ever since.
The planning application was jointly submitted by Bristol-based developers Cubex Land, and Whitbread, the company which both owns and operates the Premier Inn brand.
'Excellent site'
"Our new hotel in Glastonbury adds another excellent site to our existing network," said John Bates at Whitbread Hotels and Restaurants.
"I expect the hotel will play an active role in helping to attract visitors to Glastonbury, and we are now pushing hard to get the hotel built and ready for our customers in time for spring 2013."
Cubex recently acquired the 20 acres Morlands Enterprise Park from South West of England Regional Development Agency.
Peter Walford, director at Cubex, said: "We are excited to be involved in this carefully thought out scheme which will provide good quality facilities for the benefit of both the park and the town."
Mr Walford added that the company was close to securing "another new major occupier to the park" on the back of the news.
Conservative councillor Tom Killen, deputy leader of Mendip District Council and councillor lead on business development, said the development was good news for the business and tourism economy in Mendip.
The full plans are available on the Mendip District Council website.