A361 Glastonbury Road reopens following flooding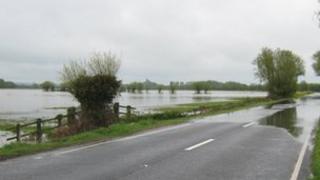 A major road in Somerset is due to reopen in time for rush hour after it shut last week due to flooding.
The A361 Glastonbury Road was impassable between East Lyng and Burrowbridge, after water from drainage ditches flowed onto the carriageway.
Somerset County Council and the Environment Agency say the water level has fallen and that predicted heavy rain is not likely to flood it again.
The A361 is a popular commuter route between Taunton and Glastonbury.
Meanwhile, Vivary Park in Taunton reopened to the public on Tuesday morning after it was flooded by torrential rain on Sunday last week.
The park was left under several inches of water and a decision was made to close it to prevent long-term damage.
A county council spokeswoman said the park had survived the flooding "remarkably well".
Most of its spring bedding plants are due to be removed to make way for summer bedding plants, she added.