Cheddar Gorge cable car idea gets support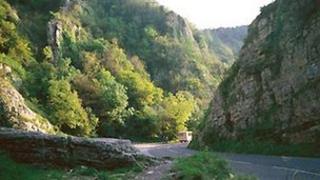 Two thirds of people who commented on proposals for a cable car at Somerset's Cheddar Gorge support the "overall concept", consultants have said.
More than 500 people attended an exhibition of the proposals, which also include an education centre, in March.
Avril Baker Consultancy (ABC) said issues being looked at following the initial feedback included more visitor parking and protection of wildlife.
A further round of consultation will take place in the summer.
The Longleat Estate, which manages the gorge, has said the project would help make it more accessible to visitors and support conservation work.
A cable car at the gorge was first suggested more than 20 years ago.
Studies and investigations
ABC said they had received 353 comment forms plus additional letters and emails.
A spokeswoman said the feedback was currently being analysed and compiled into a report.
"In broad terms around two thirds of those who responded indicated support for the overall concept and project aims for a new visitor attraction, with a third generally supportive and a third broadly supportive but with some concerns," she said.
"Some of the areas that the team will be looking at further in response to feedback are around more visitor parking, protection of the wildlife and ecology, and ways of minimising the visual and environmental impact at the top of the gorge.
"Although not linked directly to the project there were questions raised about the current condition of Cox's Mill and its possible role in the future proposals."
She said the proposals were still at a very early stage.
A series of detailed studies are being carried out to assess the likely impact on the environment and the surrounding area.