Somerset misses out on Tour of Britain cycle race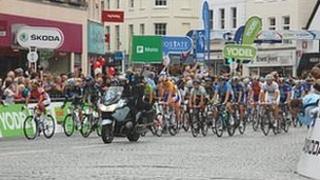 For the first time in five years, the Tour of Britain cycling race will not go to Somerset.
Somerset County Council said it could not afford to host the race but had hoped private sponsors could be found.
Previously a £770,000 deal was agreed by the Lib Dems, who said it promoted economic growth, but the Tories said money could best be spent elsewhere.
The event will visit Devon, and a council spokesman said it had brought £3m into their local economy last year.
Devon County Council spokesman Stuart Hughes said the county had seen the benefits of the tour over the past three years, with a total of £14m being brought in to the local economy.
£350m in debt
Stage seven of the Tour of Britain starts on 15 September in Barnstaple.
It will cover about 106 miles (171km) of Devon before finishing in Dartmouth.
Somerset County Council decided to ended its sponsorship deal with race organisers after last year's race.
Despite attracting up to £10m in revenue, the council said it would not be appropriate to fund the race while it was £350m in debt.
The Tour of Britain is a cycle race held in eight stages around the UK, starting in Ipswich on 9 September and finishing in Guildford on 16 September.
Organisers say some 100 cyclists will take place in the event as it travels through England, Scotland and Wales.