Wrington All Saints Church clock silenced in noise row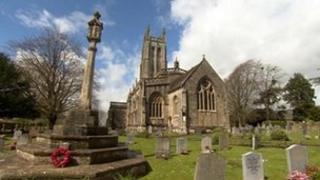 A church clock that has chimed in a North Somerset village for more than a century has been silenced.
The bell in the clock at the 15th Century All Saints Church in Wrington had rung out every quarter of an hour for decades.
But new neighbours complained the noise was keeping them awake at night.
North Somerset Council said it tried to resolve the matter in a way that was acceptable to the church and the complainants.
The chimes had been temporarily switched for a refurbishment when the complainants bought their house in October.
The sound was switched on again in November.
'Bureaucracy '
After receiving the complaint, North Somerset Council officials told the vicar Nicholas Maddock the bell must not be allowed to chime between 23:00 BST and 07:00 BST.
But church leaders said they had to silence it completely because the bell's computer software cannot be programmed locally to stop it chiming at night.
Church officers said they are taking legal advice and may challenge the noise abatement notice, while villagers say they are planning to launch a petition and a letter-writing campaign objecting to the restriction.
"It is very sad situation," said church warden John Ledbury, whose house backs on to the church.
"I am sad at the bureaucracy of this country that has allowed it.
"One person comes into the village and without any reference to the church has decided to go to the district council.
"The law allows an officer of the council to issue a noise abatement notice and takes no notice that no one in the village has ever complained.
"Everybody in the village hopes this is resolved without having to go to court."
Nick Yates, spokesman for North Somerset Council, said: "Once we receive a complaint of a noise nuisance we have to investigate it.
"We would have much preferred not to have reached this situation, but having established that a statutory noise nuisance exists, and having tried to negotiate a solution without success, we have now served an abatement notice to stop the bells chiming at night."
The bell of the clock is separate to the main church bells.