Cheddar market cross to be repaired after taxi crash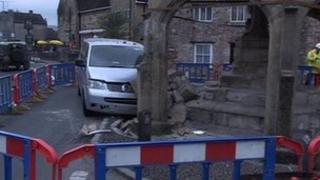 Repairs to the damaged market cross in Cheddar are set to begin over the next few weeks, the parish council has said.
Last month a taxi crashed into the landmark and knocked down two pillars which put it in danger of collapse.
The conservation work has been organised between English Heritage, which will help fund the repairs, and Cheddar Parish Council.
Work will involve rebuilding and strengthening the structure and replacing the destroyed stonework.
It is not known how much the repairs will cost, but both parties have said it will take a few weeks.
The cross is a scheduled monument and a Grade II listed building which is thought to date back to 15th Century.
The crash happened on 31 March.