Burnham man jailed after explosives found in shed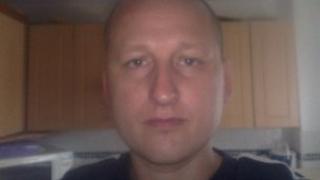 A man has been jailed for two years for making and storing highly explosive chemicals in his shed in Somerset.
Philip Leonard, 36, of Burnham-on-Sea, pleaded guilty in February to four charges of making explosive substances for unlawful purposes.
His defence lawyer at that hearing said Leonard had no malicious motive and had not intended to use the explosives to cause damage or injury.
Police raided his home in January and had to evacuate nearby homes.
'Just a hobby'
Judge Stephen O'Malley, at Taunton Crown Court, told Leonard he needed to realise the gravity of his actions.
"What the investigators, police and others, found in January when they raided your home was a potentially very dangerous situation with four different explosive substances which singularly or combined had the potential to cause serious injury to people and property.
"My main purpose in sentencing you has to be to bring home to you and others the gravity of what you did."
Leonard had bought the chemicals on the internet.
His activities were spotted by security services who alerted the police.
Prosecuting, William Hunter said: "Police called his home when they heard he'd been purchasing items on Ebay. When they knocked on his door, he said 'I'd thought I'd get a visit from you'.
"The police searched his house and shed and found very highly explosive and volatile material, together with a manual on how to make explosives."
When he was arrested, Leonard told police he had been depressed and was interested in pyrotechnics.
He had bought the chemicals on Ebay and had been experimenting with them in the middle of nowhere, out of harms way, the court was told.
Mr Hunter said Leonard had accepted it was a stupid thing to do.
Patrick Mason, defending, said Leonard had been on anti-depressants for 10 years and had been a "bit of a recluse".
He said Leonard had an interest in pyrotechnics for a long time and being "a relatively intelligent man" he was able to quickly produce explosives.
His defence insisted there was "nothing sinister in what he was doing, and for him, "explosives were just a hobby, a fascination".
A bomb disposal team from Ashchurch in Gloucestershire was called to the scene and 30 people were evacuated from the homes.
A large cordon was set up around the property on Beatty Way.
Ch Supt Daimon Tilley said: "This was a serious incident which caused significant disruption to the local community.
"While there was no malicious intent in Leonard's actions he must accept that he put the safety of his own family, his neighbours and the responding public services at risk and caused local residents to leave their homes for more than 12 hours.
"People need to realise that chemicals are dangerous and are not simply something which can be played with out of boredom, curiosity or even worse with the intent to cause harm to others."