Fish relocated for Bath Kennet and Avon Canal repairs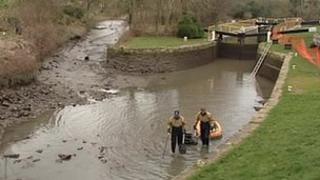 Specialist teams are relocating fish from a section of canal in Bath which is being drained to accommodate essential repairs to the lock walls.
The three-week project is being carried out by British Waterways at Bath Lock Flight on the Kennet and Avon Canal.
The work, which is costing £270,000, will involve completely draining six locks on a mile-long section of canal.
A British Waterways spokesman said about 1.6 tonnes of fish such as roach, carp, eels and bream will be moved.
The fish will be stunned and moved to either side of the drained stretch of canal.
"The fish will be carefully monitored throughout the whole process and once the lock flight is reopened they should naturally swim back to their old habitats," the spokesman said.
Lock seven, known as Widcombe Lock, through to lock 12 - or Pulteney Gardens Lock - span the area where work is taking place.
Maintenance teams will carry out repairs to the 200-year-old brick lock walls and also replace the lock gate seals.
The 19ft (5.7m) deep Bath Deep Lock is also among those included in the repairs, which is the deepest lock on the Kennet and Avon Canal and the second deepest in England.