Black widow spiders found in aircraft in Somerset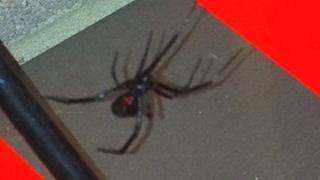 Venomous black widow spiders have been found by Royal Navy engineers working on an aircraft that had recently returned to the UK from California.
A 22mm (0.9 in) female "stowaway" was spotted on the aircraft by engineers based at RNAS Yeovilton in Somerset.
Petty Officer (PO) Alex "Scotty" Scott said: "We used an element of skill and considerable daring to capture our stowaway rather than squashing it."
A male black widow and egg pouch were also found after a hangar fumigation.
'Startled and agitated'
PO Scott, from 845 Naval Air Squadron (NAS), said: "The aircraft I was working on had recently returned from a detachment to El Centro, California, so alarm bells started to ring.
"As I moved in to examine the spider, it became startled and agitated and began to scurry around - revealing the bright red hour glass patch on its belly."
The venom of some black widow spiders can cause cramps and fever, although their bites are rarely fatal.
Only the females are venomous and are called black widows because they eat their male partners after mating.
"Alarmingly, we were told the female black widow's bite is particularly harmful to humans," PO Scott added.
According to a Royal Navy spokesman, the spiders survived the sterilisation, or "bug-bombing" process, that aircraft and equipment undergo before returning to the UK.