Bishops Lydeard volunteers frustrated by library takeover delays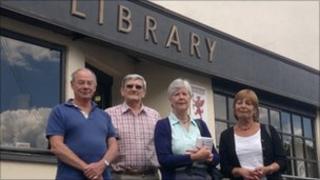 Campaigners fighting the closure of the Bishops Lydeard library in Somerset were closely watching the High Court's ruling in favour of Brent Council's proposal to close half of its libraries.
But unlike the campaigners in Brent, who were fighting to keep the libraries under council control, the Bishops Lydeard volunteers have already accepted a similar proposal by Somerset County Council will go ahead.
As a result, they have put together plans to run the library themselves but have been frustrated by legal challenges from groups trying to stop the move in other areas.
Somerset County Council wants to withdraw funding for 11 libraries, including Bishops Lydeard's.
John Smeaton, from the group which wants to run the library, said the ruling was "exactly what he had been expecting".
Bishops Lydeard library has occupied a 30 sq m room in an old building in the middle of the village for more than 40 years.
When it was decided the library would be run as a community library, from 1 October, more than 130 volunteers signed up to help run it.
The library building, currently being leased to the council, was offered to the volunteers rent-free for two years.
Plans on hold
And more than 50 boxes of "good quality" books were donated to stock the library's shelves.
But plans to pay for and run their own library service had to be "put on hold" pending the outcome of a judicial review.
Mr Smeaton, who is chairman of the library steering group, said it had "caused a lot of problems".
He said: "We were all ready to get stuck in and take on the library on 1 October but now it looks like we'll be hanging around until next April.
"And we're worried volunteers will have lost some of their enthusiasm by then."
The library was due to be run entirely by volunteers, with fundraising to pay for utility bills and new books.
And, according to Mr Smeaton, the council had agreed to leave "virtually everything" except "the Somerset County Council sign and a computer".
"The county council said it currently costs £22,000 a year to fund the library but we reckon we can do it for £6,000," he said.
"We're thinking of setting up a membership scheme and charging people about £3 per year - but we haven't worked out the details yet.
"And we aren't signing up to the library service which is actually quite an expensive process - we've decided to do everything ourselves."
'Glorified book shop'
But Peter Murphy, the chairman of Watchet Library Friends, said opting out of a library service that offers access to inter-library loans and books transfers is "not a proper library".
"It will be nothing more than a glorified book shop," he said.
"It's better than nothing but it's not a proper library. You won't be able to borrow from across the service or borrow any book from any library in the country."
Campaigners for Watchet library, and a number of libraries across Somerset and Gloucestershire, managed to obtain an injunction stopping all closures ahead of a judicial review held at the end of September in Birmingham.
"We decided it was not acceptable what the council was doing and we decided we were going to challenge it," said Mr Murphy.
"Over 50 organisations and individuals donated toward the £9,000 costs to fund our legal battle.
"But having a purely volunteer run library is not an option - it would be a library only in name."