Somerset County Council to become 'smaller' to save £20m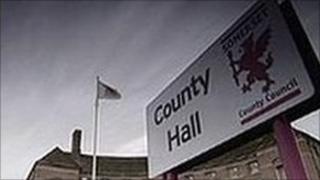 Plans by Somerset County Council to save more than £20m could see more of its services outsourced, the authority has said.
A review into the way the authority provides all of its services will begin immediately and last 18 months.
Bosses say it will make it "smaller, flexible and more agile" in future.
Conservative council leader Ken Maddock said: "This is an exciting but also very challenging programme that has the potential to deliver huge savings."
The review comes at a time when the council says its income is falling while the demand from some services like adult social care is rising.
The plan is supported by all three political parties, the council said.
'More ambitious'
"I can't say that every service provided in the past will continue to be provided by the council," Mr Maddock said.
"We have, for example, recently outsourced the catering and cleaning operation for schools and libraries and various other council buildings.
"We don't employ those people any more. Those jobs are still done, but they're not council jobs.
"Every part of the council's operation will get a very close detailed scrutiny.
"By 2013, Somerset County Council will be a smaller, agile and more ambitious organisation and delivering differently."
The review is expected to cost £3m.
"To pay £3m out to save £20m seems to me like a good deal and I think it will appeal to people in Somerset," Mr Maddock said.