Hinkley Point protest: Blockade at nuclear power station
3 October 2011

From the section

Somerset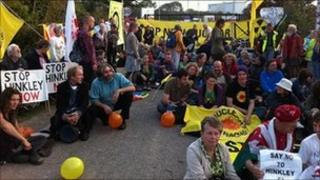 Up to 400 protesters blockaded the entrance to Hinkley Point nuclear power station in Somerset.
They warned this could be the first of a number of demonstrations over plans for a new nuclear power station at the site.
Power firm EDF said of 500 employees at the plant, only essential staff had been called in and had arrived by bus at dawn.
Deliveries had also been re-scheduled.
An EDF spokesman said: "The station's still generating power and essential staff are on site."
Any unexpected deliveries had been taken to an alternative entrance.
The spokesman said: "We trust the protest will be peaceful and we recognise their rights as part of the democratic process in this county.
"The station is still generating power for one million homes and essential staff are on site running the station.
"Officers from Avon and Somerset Police are here as part of our contingency measures as safety is a top priority."
'Symbolic protest'
Protesters had gathered outside the main gate of Hinkley Point, which is on a rural road about 10 miles from Bridgwater.
BBC reporter Ruth Bradley said: "It's a peaceful protest with demonstrators playing music and walking around with radiation monitors and talking to police.
"There are lots of police riot vans and officers here."
Avon and Somerset Police said one man was arrested at the demonstration on suspicion of possession of an offensive weapon.
Camilla Berens, from Kick Nuclear, said the blockade was "symbolic".
She said: "The government is trying to bamboozle people into thinking nuclear power is essential to keep the lights on.
"At the moment there isn't a debate, the government's told everybody you've got to have it whether you like it or not and we're countering that, saying, actually nuclear's the last thing we need."
Protesters, who have been operating in informal shifts, also released 206 helium balloons - representing the number of days since the Japanese nuclear disaster at Fukushima.
EDF Energy wants to build a new nuclear power station, Hinkley C, at the site by 2020, which it says would provide enough energy for five million homes.
It is hoped the current station, Hinkley B, would continue to operate alongside it.
Peter Higginson, technical and safety support manager at Hinkley B, said: "We need a balanced mix of energy and nuclear plays a part, along with other means of electricity and renewables."
Meanwhile, the Environment Agency has announced the deadline on the public consultation into Hinkley C has been extended from 6 October to 15 December.