Judicial review into Hinkley power plant worker homes plan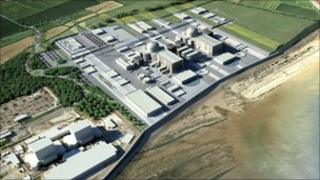 A judicial review will take place into plans to build accommodation for workers at the proposed nuclear power station at Hinkley Point in Somerset.
Energy firm EDF wants to build homes for staff on the land owned by plastics firm Innovia Films near Bridgwater.
EDF hopes to get a Compulsory Purchase Order for the land as part of its plan for the power station.
But Innovia, which called for the judicial review, has permission to build homes and a school at the site.
'Survey work'
The Innovia site is situated on the outskirts of Bridgwater and is about eight miles south east of Hinkley Point. About 5,600 workers would be employed during the peak construction of the build, if permission is granted.
A Compulsory Purchase Order can be used by a public body to purchase land from a private land owner.
In this case, the Infrastructure Planning Commission (IPC), an independent body, will decide whether to grant planning permission to EDF and can use its powers to grant the order.
The judicial review relates to the IPC's decision to allow EDF Energy access to carry out exploratory survey work on the site ahead of the planned accommodation.
A spokesman for EDF said: "The site is just one of the sites identified for potential associated development.
"The judicial review will not hold up the application for a development consent order due to be submitted later this year."
A development consent order is effectively planning permission and is a term used for huge projects such as power stations and airports.
A spokesman for Innovia Films confirmed that building work had already started for the new homes and school, but that it was still in talks with EDF over its plans and would not comment any further.
The date of the review hearing has not yet been set.