Taunton hospital fined £32,000 for mixed sex wards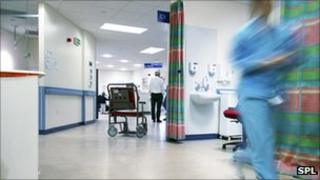 A Somerset hospital has been fined £32,000 for breaching government rules 130 times since April by placing men and women in the same ward.
Musgrove Park in Taunton was fined by Somerset Primary Care Trust (PCT), which has a contract with the hospital.
Greg Dix, director of nursing at Musgrove Park, said the "vast majority" of patients were in single sex wards.
The PCT said that if agreed improvements were made by the hospital the fine would be reimbursed.
'Available bed'
The hospital said the number of times sexes had to share was small compared to the thousands of patients they see every year.
"Often the reason we have to mix our sexes here at Musgrove Park is essentially driven by the number of patients coming into our emergency areas and we have to place them in an available bed," said Mr Dix.
Musgrove Park Hospital is part of Taunton and Somerset NHS Foundation Trust which manages its own budget.
The Trust receives its funding from Somerset PCT and has to meet the terms of a service level agreement. If these terms are breached, such as placing men and women together in a ward, it can be fined.
If three men and a woman shared a ward for one night, this would count as four breaches because four people did not spend one night in a single sex ward.
Each breach costs the hospital £250 under rules laid down by the government, although it is up to the PCT to fine the hospital.
The rule does not apply to A and E or to intensive care patients.
During the same period, the Royal United Hospital in Bath saw 15 breaches, while at Yeovil District and Weston General did not have any breaches.