Drop in pothole claims against Somerset County Council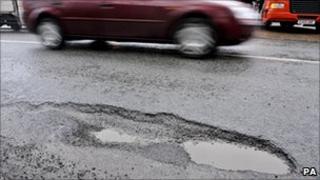 Fewer insurance claims have been made against Somerset County Council for damage caused to motorists' cars by potholes than in previous years.
In 2010-11, 392 claims were made, compared to 2009-10 when the Conservative-run council had 494.
Councillor Harvey Siggs said: "It hasn't been helped by two pretty severe winters but we've tackled it by filling potholes as quickly as we can."
The Liberal Democrats said they hoped road investment continued.
Pessimistic motorists
Lib Dem leader at the council Sam Crabb said: "Obviously I am pleased to see a downward trend as roads in Somerset improve.
"This current year I am pleased that the government gave Somerset County Council a considerable sum to help repair damaged roads caused by the winter weather and it is important that spending on our roads is maintained."
The county council has filled in 23,000 potholes over the past two years.
Over the past two years, the county council has received extra money from the government, from a share of £300m for all UK councils.
During this current financial year, a total of £4m was handed to the council by the government for road repairs in addition to the normal road maintenance grant.
Paul Watters, from the AA, said: "Usually that's a good indicator, sometimes less claims mean that the council hasn't paid out on claims and also the public are fairly pessimistic about getting their money back, and I'm afraid a lot of people have their claims rejected anyway.
"But AA Insurance received less claims this spring than expected, so I think it's fair to say that the emergency pothole funding has actually worked, but it hasn't repaired the roads completely."