Olympic training camp hopes for University of Bath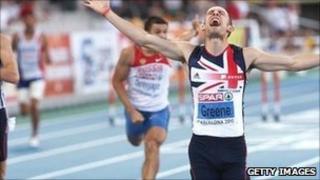 Staff at the university of Bath are hoping next year's Olympic Games will raise its profile as a sport training facility.
The British Paralympian Association and the Malaysian Olympic team are already signed up to be based there.
Director of sport Stephen Baddeley said negotiations were continuing for other teams to follow suit.
"It's surprising that a large number of countries have still not decided where they are going to be based," he said.
"We're very fortunate to have some outstanding facilities at the university, and therefore we make a very attractive venue for pre-Olympic and pre-Paralympic training camps," added Mr Baddeley.
One year to go
"Initially we were discussing with national Olympic committees, but now we tend to be discussing more with individual sports because a lot of the Olympic committees have said they are not going to travel as a full team.
"That makes it a slightly more long-winded process. It's much easier dealing with one Olympic committee than contacting 26 different sports, but that's the way they want to play it."
The Malaysian badminton team is currently training in Bath for the world badminton championships at Wembley next month, and the British Paralympians will be there in late August for a "one year to go" preparation camp.
The university is also a major venue for high performance sport in the UK, with 13 governing bodies basing their national or regional squads there permanently - such as athletics, swimming and badminton.
In addition, more than 70 full international and 70 junior international athletes are based there, such as Amy Williams, who won gold at the 2010 winter Olympics in the women's skeleton, and Dai Greene, the winner of gold medals in the 400m hurdles at both the European Championships and Commonwealth Games last year.
Long term relationship
Mr Baddeley said the Games would be an opportunity to "raise the profile" of the university nationally and internationally, and that had "never been more important given the need to attract funding from domestic students and overseas students".
He added that the university was keen to forge a long term relationship with the British Paralympian Association, which would include offering scholarships, research and tailoring academic courses to focus on supporting athletes with disabilities.
"Bath has a very strong reputation as a tourist destination, but you can never rest on your laurels," said Mr Baddeley.
"It's an opportunity to showcase and profile the unique and historic city of Bath."