'Lost' Catholic sculpture housed at Glastonbury Abbey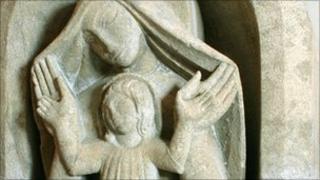 A sculpture which lay forgotten for several decades has been re-homed at Glastonbury Abbey museum.
The Catholic statue of the Madonna and Child was commissioned in 1928 by Glastonbury priest, Fr Francis Burdett for St. Mary's church in the town.
Katherine Gorbing, director at Glastonbury Abbey, said she was "delighted to arrange the display of this beautiful sculpture" in the abbey.
The statue was carved out of limestone by British sculptor, Eric Gill.
'Particularly appropriate'
It was first placed in a niche at St Mary's church for 10 years where it could be seen by passers-by, but the building itself was demolished in 1939 to make way for a larger building.
Because it didn't fit in with the new design the statue was moved to the church cemetery.
Burdett's Madonna, as it was named, was left forgotten until the 1980s when it was identified as a work by the famous sculptor.
Since then, the Catholic Church has been working to find a suitable place for it to be displayed.
Fr Kevin Knox-Lecky, of St Mary's Church, said: "Glastonbury Abbey is a particularly appropriate place for the statue of the Madonna and Child as it was the site of Our Lady's ancient shrine and a centre of pilgrimage to the Blessed Virgin Mary."
The statue is now on public display at Glastonbury Abbey.