Hinkley proposals 'lack detail' say local councils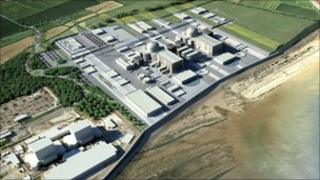 Councils in Somerset say more detail is needed about the overall impact of a new nuclear power station at Hinkley.
Conservative leader of the county council, Ken Maddock, said the project was welcomed but the last consultation "still had some way to go in getting the proposals up to scratch".
District councils were also worried about the level of community benefits, housing, job creation and transport.
EDF energy said the site would bring at least 5,000 jobs to the area.
If built, the nuclear power station at Hinkley will be operational by 2018.
'Lasting benefit'
The county council said it needed more detail on highways and transport, the overall impact on the county's towns and villages and current offers to benefit nearby communities.
Andrew Goodchild, planning manager of West Somerset Council, said: "Councillors were not satisfied that full consideration had been given to the impacts on local communities.
"They felt the plans lacked sufficient long-term benefit to the area, lacked adequate compensation for the negative and more intangible impacts, and lacked investment in infrastructure and permanent housing."
Similar concerns were echoed by the Conservative-led Sedgemoor District Council.
Chief executive at Sedgemoor, Kerry Rikards, said: "We recognise that progress has been made on certain aspects, but we are concerned that the lack of information has lead to the full impacts remaining unclear to either councils or the wider communities."
Both West Somerset and Sedgemoor councils expressed concerns about the actual number of jobs that will be created for people in Somerset.
A spokesman for EDF Energy said: "We're pleased that both councils have said they are 'committed' to the project and aim to achieve 'positive outcomes', recognising that progress is being made.
"Benefits include 5,000 jobs for Somerset people at a conservative estimate, in an area of relatively high unemployment.
"In addition, we are proposing £100m of community investment of lasting benefit, boosting the local economy, improving housing and creating more vibrant communities."