Power cut affects 6,800 customers in Bristol area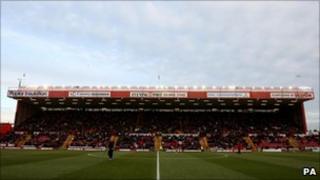 Almost 7,000 Western Power Distribution customers - including Bristol City FC's stadium - have been without power for a period due to a substation fault.
A spokesman for the electricity firm said 6,805 customers in Bower Ashton, the Bedminster area, Long Ashton and Failand were affected on Tuesday.
He said a fault occurred at Bower Ashton primary substation at 1818 GMT.
Most homes were reconnected remotely by about 1830 GMT and the remaining 2,800 were reconnected by 1908 GMT, he said.
A Bristol City FC spokesman said the Ashton Gate stadium was "plunged into darkness bar safety lights" ahead of the match with Portsmouth, and it was agreed that a back-up generator would be used.
But mains power was restored and the match kicked off at 1945 GMT.
The Western Power Distribution spokesman said the cause of the fault has yet to be established.