Man arrested over stolen Wellington Cemetery plaques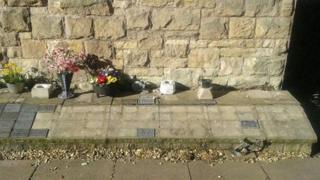 A man has been arrested by police investigating the theft of about 100 commemorative bronze plaques from a remembrance garden in Shropshire.
The 38-year-old man was detained after more than 50 of the plaques were found at a house in Oakengates, Telford, police said.
He has since been released on bail.
Many of the 6in (15cm) by 4in (10cm) plaques had been in place at Wellington Cemetery in Shropshire since the 1970s and 1980s.
They bore personalised messages from bereaved relatives to their loved ones.
The theft was reported to Telford & Wrekin Council on Friday.