Telford budget cuts to affect adult services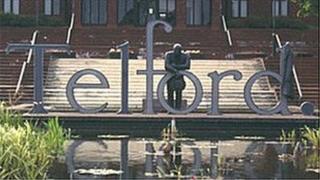 Front-line services for children and vulnerable adults face large cuts under budget plans agreed by Telford and Wrekin councillors on Thursday evening.
While freezing council tax, the 2014-16 budget includes a £15m fund to regenerate towns and tackle youth unemployment, as well as £22m savings.
The adult services department faces the biggest cut of £10.5m, from its current budget of about £50m.
The council said much of that would come from renegotiating contracts.
However, the Conservative opposition described the level of cuts to adult services as "irresponsible and reckless".
Children's services will see a £3.6m cut to its annual £44m budget by 2016.
Councillor Bill McClements, in charge of finance at the the Labour-run authority, said adult and children's services together accounted for about two-thirds of the overall budget, which currently stands at £134m.
"It is inevitable that these services are affected and we will seek to be as careful as we can in making the savings we need to make," he said.
Plans for the next two years include reducing money spent on social care support packages, the number of residential placements for children, a review of transport spending and cutting a further £3m from the wage bill.
The Labour-run council said it was looking at restructuring departments, but it was difficult to say how many jobs might be cut at this stage.
Over the past four years, Telford has made £53m of savings, losing the equivalent of 1,075 posts.
'Difficult circumstances'
The authority said the latest savings targets follow cuts to central government funding.
The Department for Communities and Local Government has previously said local authorities account for about 25% of public spending and it was only "fair" they found savings as part of overall cuts.
Telford and Wrekin Council had originally intended to raise council tax but put forward plans for a freeze in November.
Under budget plans approved on Thursday, the council also agreed to fund two investment programmes.
Some £13.6m has been allocated to regenerating local town centres and estates, while £1.3m will be invested in a range of youth unemployment schemes.
The local authority said of the 4,200 people who took part in public consultation, nearly six in seven supported the investments.
Councillor Andrew Eade, leader of the Conservative group, said while he agreed with many of the budget plans, he criticised the £15m investments, which he said could be used to reduce the impact on adult social care.
He said £10.5m cuts to that department would leave vulnerable adults and their carers "in very difficult, if not impossible circumstances".
Mr Eade also called for greater collaboration with Shropshire Council to help make savings.