Shropshire flooding: Six flood warnings on River Severn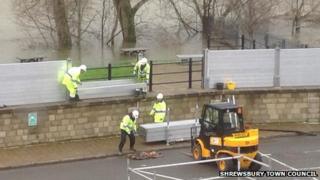 Six flood warnings remain in place on the River Severn in Shropshire but some flood defences have started to come down.
Barriers have been dismantled between the river and the Guildhall in Frankwell, the Environment Agency said.
Water levels in Shrewsbury peaked on Sunday night and were expected to peak in Ironbridge on Monday.
Scottish Power said most homes have now had power restored after being cut off on Wednesday due to stormy weather.
The firm said it responded to 1,000 faults in two days across mid and north Wales, north Shropshire and Cheshire - equivalent to a year's callouts.
Flood warnings which had been in place at Mytton and between Montford Bridge and Shrawardine were lifted on Monday.
Meanwhile, a group of students from Harper Adams University, near Newport, has raised more than £1,000 for flood-hit Somerset farmers by selling T-shirts and raising donations from businesses.
Organiser Chloe Cross said the appeal would continue as long as it is needed.
In Shrewsbury the Frankwell Main, Frankwell Riverside and St Julian's car parks all remain closed due to high river levels, Shropshire Council tweeted.
The council said several roads also remain closed across the county, including:
Victoria Avenue, Shrewsbury
Old Coleham, Shrewsbury
Gravel Hill Lane, Shrewsbury
Sydney Avenue, Shrewsbury
Chilton Farm Lane, Atcham
Atcham to Cross Houses