Shropshire floods: 'Move upstairs or leave', council says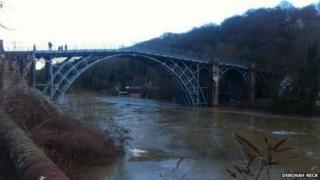 Residents in parts of Ironbridge have been advised to "consider moving to the first floor" or leaving their homes to escape flooding.
Telford and Wrekin Council said residents faced a "serious situation" and should take "extreme care".
The Environment Agency said 45 homes in Ironbridge were at risk but said their guidance was a "precaution, not an evacuation".
River Severn flood defences were still "working well", the council said.
Further heavy rainfall is forecast for Shropshire on Thursday and Saturday and the Met Office has issued a yellow warning for rain from 18:00 GMT.
Steve Hollins, from Telford and Wrekin Council, said the situation was "dangerous".
"All of our personnel working on the barriers are now wearing life jackets," he said. "People should not be complacent."
Appeal for help
The council said it had contacted residents in The Wharfage and Court Drive, Coalbrookdale, and asked them to consider moving upstairs or leaving until further notice.
A spokesman added that anyone in the area should wear a life jacket in the interests of safety.
Environment team leader Dave Hanley said: "We are not evacuating residents but we have been doing a door-to-door knock and speaking to them to let them know what the situation is.
"As a precautionary measure, they may wish to go and stay with relatives."
Chris Bainger, from the Environment Agency, said the Severn was at its highest level since 2000.
"It's gone beyond typical winter flooding levels," he said.
A number of roads and Coalbrookdale and Ironbridge Primary School have been closed due to flooding ahead of the expected peak in river levels later.
Donna Byard, from Ironbridge Antiques, Arts and Crafts Centre said the shop, near the banks of the Severn in Merrythorpe Village, was in danger of being flooded.
She appealed for help evacuating items from the premises due to fears rising water would cause damage.
"Outside where we would normally park our cars, there's about three feet of water
John Philpin from the Environment Agency said they were focusing efforts in the region on Ironbridge.
Levels in Bridgnorth were also expected to peak later.
In Maesbrook, near Oswestry, two people were rescued from a van by fire crews, at around 13:30 GMT.
'Keep traffic moving'
Earlier, flood barriers in Shrewsbury were removed to "keep traffic moving".
The defences at Coleham Head were moved after the water did not peak at a predicted 14ft 9in (4.5m), Shropshire Council said.
The River Severn peaked in Shrewsbury at 14ft (4.25m) on Monday.
Environmental maintenance manager Tim Sneddon said the barriers were "almost certain" to go back up.