Hadnall level crossing train collision investigated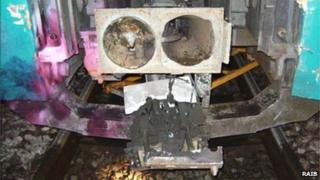 An investigation has begun after a passenger train struck a welding trolley at 85mph at a crossing near Shrewsbury, narrowly missing a workman.
The man suffered minor injuries as he jumped clear just before midnight on 16 January, the Rail Accident Investigation Branch (RAIB) said.
The Arriva Trains Wales Manchester-to-Shrewsbury service did not derail but sustained serious damage.
No-one on board the train was injured, British Transport Police (BTP) said.
The RAIB said the train's fuel tank was ruptured in the collision, which took place at the Bridgeway level crossing in Hadnall.
The service also nearly hit a maintenance van parked close to the tracks, where another workman was unloading welding equipment.
'No criminal circumstances'
The RAIB said the trolley had been loaded onto the line at the crossing in order to move the equipment further up the line in Shrewsbury, for repairs to be carried out.
The track had been kept open to allow the 22:36 GMT service to approach, being the last train of the night.
BTP said it had investigated the incident but found "no criminal circumstances."
It said the driver was treated for shock and the passenger was uninjured.
One passenger on board at the time was taken on to their destination by taxi.
An RAIB spokesman said it would investigate the circumstances surrounding the crash and the actions of workers and train staff involved.
He could not confirm how long the investigation would take but said its inquiries "normally take about a year."