Shrewsbury to London rail plans 'do not go far enough'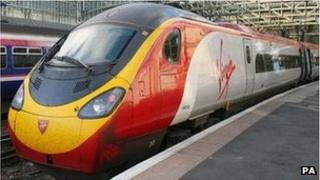 Business leaders campaigning for a direct rail link between Shrewsbury and London have said the latest plans do not go far enough.
Shropshire has been without a direct rail link to the capital since 2011.
Last week, the Office of Rail Regulator (ORR) announced a one off-peak service would run in each direction, Monday to Friday, from May 2014.
Richard Sheehan, from Shropshire Chamber of Commerce, said it was a step forward, but more lobbying was needed.
"It's vitally important that we continue to pressurise all concerned, together, to make sure we get a business-friendly service," he said.
Last month, a 4,000 signature petition calling for the service to be restarted was presented to Parliament.
Virgin Trains submitted a fresh bid to run the service earlier this month after their previous plans were rejected by Network Rail on grounds of capacity.
The two parties have since agreed to run a limited off-peak service.
One train is expected to run in each direction between Shrewsbury and London during the week and on Sundays, although there will be no service on Saturdays.
Mr Sheehan said: "It's two steps forward and one back at the moment.
"I think we're in a situation where business people need to be in the capital for meetings that are normally 9am or 10am and that's not going to happen."
Other services currently run through Birmingham New Street.