Telford councillors urged to back £200m town plan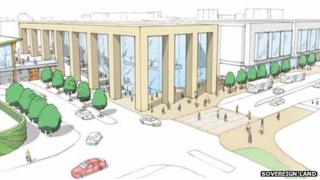 Councillors are being urged to back plans for a £200m "transformation" of Telford town centre.
The scheme to redevelop almost 92,000 sq m (990,280 sq ft) of the town's shopping centre with new shops, restaurants, leisure areas and a hotel goes before the council next Wednesday.
Telford and Wrekin Council officers have recommended the scheme for approval.
But, bus companies said they had "fundamental concerns" about the plans.
'Weak shopping facilities'
Arriva, which operates buses in the town, and the council's own public transport team, said they were unhappy with the proposed redevelopment of Telford's bus station.
Developers Sovereign Land, hoped to replace the station with a series of bus stops.
However, council officers said they were keen a "replacement bus facility" should be provided.
Officers recommended councillors approve the scheme, subject to the bus station redevelopment being put on hold until agreement is reached over its future.
The council hopes the plans will help with its aim of transforming Telford into a "regional facility".
In its action plan, it speaks of its ambition to regenerate Telford's "weak" shopping facilities into an "18-hour, seven-days-a-week focal point for recreation and leisure".
If approved, the bulk of the development will be phased over the next five years.