Coalport retirement home bulldozed after planning row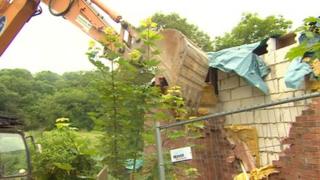 A couple have had their partially-built retirement home demolished following a four-year planning row.
John and Maureen David said they felt "sick" efforts to save the home in Coalport, in the Ironbridge Gorge World Heritage Site, had failed.
Telford and Wrekin Council said the actual building was much bigger than the plans which had been agreed with officers.
Work to demolish the shell of the building began on Tuesday.
Building work on the house started in 2009 but had to stop three months later after an intervention from council officers.
'Dream gone wrong'
A planning appeal from Mr and Mrs David was dismissed in 2010 and an enforcement notice was served on the house in 2011 because it was proved the house that was being built did not match the planning permission the couple had.
Mr and Mrs David then lost their final appeal in April and the council took action to demolish the building.
The couple paid about £150,000 for the land, £140,000 in legal costs and £100,000 towards the construction of the house. They will now also have to pay £9,000 towards the demolition costs.
Mrs David said: "We are more than gutted."
Mr David added: "It was a dream that's gone terribly wrong.
"I'm not quite sure how I'm going to cope from now on because I really am heartbroken."
The couple also have another home in Telford.