Ironbridge Jiggers Bank road 'will reopen in July'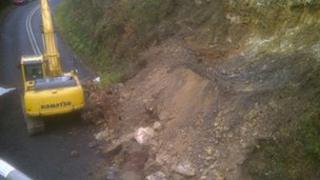 A Shropshire road which was closed in November by landslips will reopen next month, a council has said.
The closure of Jiggers Bank in Ironbridge took place after rocks fell on to the road following heavy rain.
Telford and Wrekin Council said the works to stabilise the rock face were "at an advanced stage" and the road "should reopen in mid-July."
The authority said it had hoped to open it in June, but "complex geological features" in the rock had delayed work.
Since the closure in November, engineers have treated mine workings and coal seams they uncovered when moving debris.
The council workers had put in new catch-netting and drainage to prevent any more serious landslips.
Council deputy leader Richard Overton said: "We've been very keen to get this work done quickly because of the impact on local businesses and tourism, with Ironbridge Gorge."
"What started as a small rock fall has turned into something more significant and the project has become very complex.
"Our designers have assured us this will be stable in the long term."