Shrewsbury Prison closure 'was poorly planned'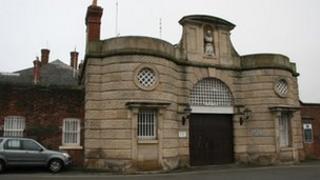 The decision to close Shrewsbury Prison was unexpected and poorly planned, a report to the Justice Secretary said.
The prison's Independent Monitoring Board said the news it was going to shut, three months before it closed in March, had a "detrimental" effect on morale among the 200 members of staff.
The study said the jail had provided a "safe and humane environment" and was considered a "high-performing prison".
The Ministry of Justice said ministers would "fully consider" the report.
The 136-year-old jail was one of seven prisons shut by the Ministry of Justice (MoJ) to cut costs.
The last inmates were transferred to other prisons at the end of February.
The report said the jail, which could cater for up to 319 category C prisoners, had been undergoing a restructuring at the time of the announcement.
It said a "bizarre aspect of the sudden decision" was that on the morning it was confirmed the prison would close, there had been planned job interviews for posts within the prison, also known as the Dana, as part of that restructuring process.
'Difficult time'
Inspectors said anxieties among prisoners about the closure "rapidly became apparent". They said vulnerable inmates feared they might not be able to replicate the "largely supportive relationships with the staff" they had enjoyed at Shrewsbury.
Inspectors said they hoped their observations would be helpful "if and when" other prison closures were planned.
The MoJ has said the reorganisation, which also includes two partial prison closures, would save £63m a year.
Responding to the report, the ministry said decisions to close prisons were "never easy" and it understood it was a "difficult time for some staff affected by the closures".
It said: "The closures were not a reflection of performance. Staff did a first-rate job but, in order to modernise the prison estate, we have had to make difficult decisions."