Shropshire flood warnings issued after snow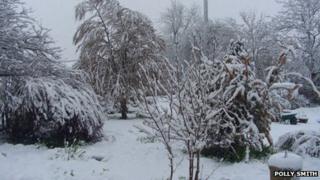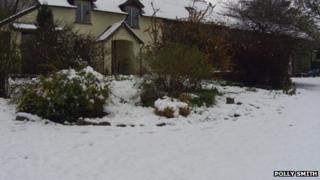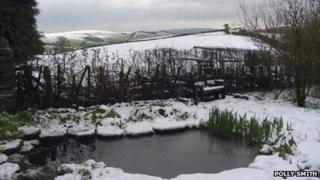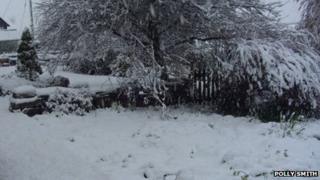 Snow and flooding have hit parts of Shropshire.
One resident near Newcastle-on-Clun said she had been "shocked" to wake up to about 2in (5cm) of snow in her garden.
"We've been here 28 years and it is the first time we've had snow in May," Polly Smith said.
The snow is believed to be very localised, with less than half a dozen homes affected, mainly on higher ground.
Mrs Smith lives more than 1,300 ft (400m) above sea level, near Clun Forest.
Snow largely melted
About four miles away, in Newcastle-on-Clun itself, there has been almost no snow.
The village primary school said it had not been affected at all, while other villagers said what little snow had fallen overnight had largely melted.
People around the River Vyrnwy in Maesbrook and Melverley were warned to prepare for flooding after heavy rain fell overnight.
Drivers' warning
Dave Throup, from the Environment Agency, said a rain gauge near Oswestry had recorded three inches (7.6 cm) of rain and was continuing to rise.
Since the Vyrnwy peaked in the afternoon, two flood warnings have been downgraded by the agency.
Earlier floods also affected several roads around north Shropshire as drivers were warned to take care.