Shawbury's St Mary's C of E school put in special measures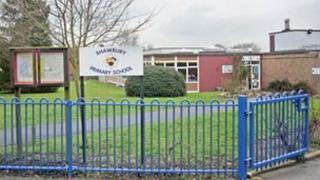 A primary school that was formed after a series of closures and mergers in Shropshire has been rated inadequate by Ofsted.
Following a visit in March, inspectors recommended St Mary's C of E Primary in Shawbury should be put in special measures.
Its report particularly highlighted poor standards in maths.
Inspectors did, however, recognise the recently appointed head teacher had a clear vision to improve the school.
They also said the school had established a series of measures against which progress could be made.
The school was formed last year through the merger of St Mary's C of E and Shawbury Primary.
It took on the name of the former, but is currently operating over two sites.
'Inadequate leadership'
The merger was part of a reorganisation of primary schools in the county, partly due to "stalling standards".
Both the former schools were satisfactory at their last inspections and the old St Mary's was ranked good just five years ago.
Following the latest inspection, Ofsted said achievement was inadequate and "had been for some time".
It said teachers' expectations of pupils were often not high enough and in many cases did not sufficiently test their understanding.
The report also said lessons needed to better "stimulate pupils' interest and hold their attention".
Ofsted's report also said leadership and management "over a lengthy period of time, have been inadequate".
Karen Bradshaw, director of children's services, said Shropshire Council was working closely with the school to improve standards and the new head teacher had already made progress.
Head teacher Sally Johnson said: "We are committed to ensuring that all staff and governors work together with parents and children to make the required improvements, whilst continuing to ensure that our children are safe and happy and enjoy learning."