Shropshire Council 'failed' man over wife's care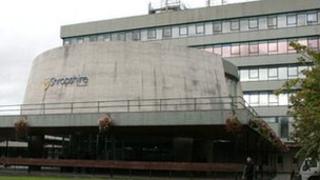 A council must apologise and pay £60,000 to a man who lost his job while trying to give his wife 24-hour care.
Shropshire Council was criticised by the Local Government Ombudsman (LGO) for failing to offer effective support to the man whose wife had complex mental health problems.
The authority was also criticised for failing to deal with the couple's complaint quickly enough.
The council said it was a "complex" case and it had worked with the family.
The couple, named in the LGO report as Mr and Mrs Ryan, first complained in 2008 that the council failed to provide Mrs Ryan with appropriate 24-hour care in a timely manner.
This resulted in Mr Ryan ultimately having to leave work to care for his wife, the report said.
The council was "more concerned" about how it could support him to work full time and care for his wife rather than carrying out a formal assessment of both their needs.
"During the period the man lost his job - pension contributions and career prospects," the LGO said.
"It's been recommended that Shropshire Council apologise to the couple and pay them £60,000."
The LGO's finding against the council was maladministration causing injustice.
The council agreed to the LGO recommendations and the complaint was closed in January 2012.
But the couple later contacted the ombudsman to say they had not received the agreed settlement of £61,270.
'Time and trouble'
"On contacting the council it said that it had misunderstood the settlement and as a consequence the complaint was re-opened," the LGO said.
The report has now concluded that the council must apologise to the couple over the length of time taken to deal with their complaint, review its complaint procedures and pay Mrs Ryan £1,000 for the "time and trouble in making the complaint and the further delay in obtaining the remedy".
"The council does not dispute that there has been maladministration or that there should be a financial remedy," the report said.
Stephen Chandler, director of adult social care at the council, said they had worked with the family "for a long time" to ensure the care and support given to them was "appropriate to their needs".
He added: "Procedures are in place to provide support to carers, and it should be made clear that financial support was put in place by the council for the family to pay for care as they saw fit. "
He added the council was due to make a formal decision over the case and it was currently considering its response to the ombudsman's report.