Shrewsbury Town Council partnership plans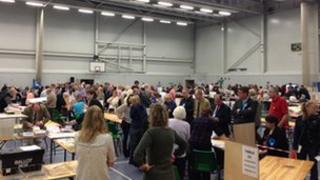 Labour and Liberal Democrats in Shrewsbury have revealed plans for a partnership to run the town council.
During elections last week, Conservatives lost control of the council, seeing its number of seats halved from 10 to five.
Labour, the biggest single party, failed to claim a majority.
The Liberal Democrats said, while a coalition was out of the question, it expected to work with Labour as it shared many of the same policies.
Group leader Miles Kenny said: "We will work with any or all [of the parties] in order to achieve some of the objectives we have.
"I anticipate, however, we will be able to work closely with the Labour group because their objectives, I would say, are much the same as ours."
Town mayor
Mr Kenny said the party would also support Labour being awarded the chairs of all committees on the council.
The committee memberships, along with the town's mayor, are due to be named at the next meeting on 14 May.
Labour group leader Alan Moseley said rather than enter a formal coalition or pact, the party would be looking to put forward "community-led" policies, which "we hope will attract support".
Shrewsbury is one of the largest town councils in England, formed after the creation of the Shropshire unitary council in 2009.
It is responsible for maintenance of parks, playgrounds and open spaces, including The Quarry, as well as the cemetery and crematorium.
Following elections last week, Labour won seven seats and Liberal Democrats and Conservatives each took five seats.