Dawley Town Hall looks beyond autumn opening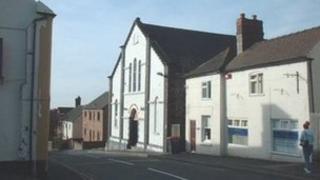 The future of a town hall in Shropshire will be safe for at least "a generation," according to the local authority.
Built as a temperance hall in 1873, Dawley Town Hall has been empty since it closed in 2011.
It is due to open in the autumn following a £150,000 refurbishment.
Telford and Wrekin councillor Shaun Davies said it would become the new home for the parish council in a bid to secure its long-term future.
Great Dawley Parish Council is expected to rent out its existing offices at Dawley House, on Burton Street, to provide a "much-needed" income.
Chair of the parish council Jane Pinter said it was important to provide a valuable space for community groups to meet, while also protecting historic buildings and making sure they were "fit for purpose".
Local schools and businesses have helped in the clean-up and, after its revamp, the town hall is due to be opened up for community use.
Mr Davies said the Phoenix school was also expected to use it for some drama performances.
The building originally opened as a temperance hall in the 19th Century to encourage the area's mining community to come together, while promoting abstinence from alcohol.