New Shrewsbury ambulance post planned after near-miss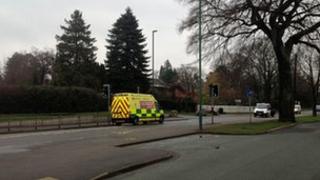 A near-accident involving a child and an ambulance on a pedestrian crossing close to a school has prompt plans to move a Shrewsbury ambulance station.
Measures to protect children from accidents involving callouts from the Longden Road hub were not adequate, an Ambulance Service report said.
The report comes after the boy from nearby Priory School was nearly hit by an ambulance that was on a 999 call.
The ambulance service said responses from the hub would also be reduced.
A new post was being planned in the area, West Midlands Ambulance service said.
When applying for planning permission for the £1.2m hub in January, the ambulance service said it would be mainly used to maintain and service emergency vehicles and for training purposes.
However, figures obtained through a Freedom of Information request by a local resident revealed an average of 17 emergency vehicles a day were dispatched from there on 999 calls in January and February.
'Not ideal situation'
Concerns were raised by head teachers at two large secondary schools in the area due to the number of ambulances driving past on blue lights.
The pupil from the Priory School was using a pedestrian crossing on Longden Road in February when an ambulance on a 999 call drove through a red light.
A risk assessment carried out after the boy was nearly hit by the ambulance highlighted the need to cut emergency responses from the base.
Jeremy Brown, head of control rooms, said it was "not an ideal situation" and the service "never set out with the intent of responding from the hub".
He said the service was in negotiations over a new response post which would further reduce, but not eliminate, the number of dispatches from Longden Road.
"There might always be the occasion where we've got a child not breathing or someone in cardiac arrest or an elderly patient with chest pain that needs that response," Mr Brown added.