Virgin hot air balloon smashes into lamp-post in Shrewsbury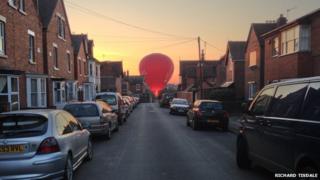 A hot air balloon forced to make an unexpected landing in Shrewsbury smashed into a lamp-post after police were unable to reach it.
Virgin Balloon Flights called emergency services at about 19:20 BST on Saturday, saying one of its balloons was attempting to land in fields near the Wakeman School.
The company said the lamp-post was damaged as the pilot attempted to float the balloon over security fencing.
None of the 16 passengers was injured.
The company said despite initially fine conditions the wind calmed and its pilot was forced to land rather than risk becoming stranded over the town.
Police were unable to get to the playing field as it is surrounded by a security fence.
Virgin said a rope tied to a support vehicle became caught on a tree and the lamp-post as the balloon attempted to land outside the fence.
The Telford-based company said it had apologised for the damage and would make arrangements with the council to make sure repairs are carried out as soon as possible.