Ludlow Arts Festival re-launched by new organisers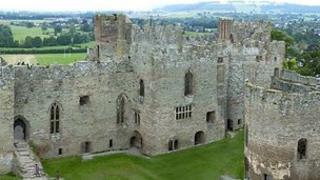 Ludlow Arts Festival is being re-launched after being taken over by new organisers.
The event had been part of the town's calendar since 1960 but was axed last year after suffering major losses.
New festival directors, Chris Davis and Chris Moreno, have pledged it will be a "bold new chapter" for the summer event taking part in the grounds of the town's castle.
Ludlow Fringe Festival, launched in 2012, is also expanding this year.
Acts at Ludlow Arts Festival, taking place between 21 and 30 June, include Jools Holland, 10cc, The Hollies and The Searchers.
Meetings were held last year after the original Ludlow Festival collapsed.
Ludlow Festival Society said it had suffered major losses in 2012 as a result of "appalling wet weather" as well as competition from other events.
Organisers of the second fringe festival said it will feature more than 100 events, some of which are free, in and around the town in June.
Anita Bigsby, fringe festival organiser, said people wanted more events in the town itself, including comedy, an arts market, poetry readings, music from local bands and drama performances from schools.
She said: "There's something for everybody and for kids as well and we have got some Shakespeare in the town too."