Shrewsbury Cemetery graves extensively damaged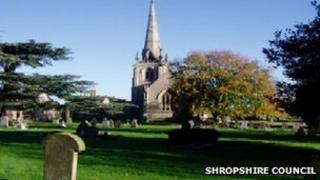 Eight graves have been extensively damaged at Shrewsbury Cemetery.
The damage, likely to have been caused last week, was discovered during routine work by Shropshire Council maintenance staff.
Mark Foxall from the authority said it was unclear if the damage was accidental or not.
Police said a vehicle may have caused the destruction at the site in Longden Road although there was no vehicular access in that area.
Some of the graves are owned by Shropshire Council and some are still tended by family members.
The council said no headstones were knocked over and the damage was mainly to footstones and edging around the graves, which appear to have been "clipped or moved, possibly by a car".
Cause unclear
Mr Foxall, the council's technical support manager, said one visitor with a family member buried there had reported the damage but admitted it was possible other families were unaware of the incident in the older, less frequently visited part of the cemetery.
A West Mercia Police spokesperson said: "The damage is quite extensive and we are appealing for witnesses or for any information concerning the identity of those responsible."
A storage compound at the cemetery belonging to Shrewsbury Council was broken into overnight on 27 February.
Nothing was stolen and police are investigating whether the break-in could be linked to the damage.
A decision is yet to be made by the council on who will fund repairs.