Shrewsbury hoard of Roman coins to go on display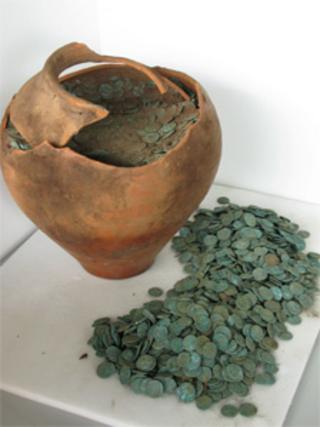 The largest collection of Roman coins discovered in Shropshire is to go on public display.
The hoard of more than 9,000 coins was discovered by a metal detectorist in a field near Shrewsbury in August 2009.
The coins, found in cloth bags within a clay pot, are believed to have been buried almost 1,700 years ago.
Shropshire Council said the collection was being photographed and catalogued before it is put on display later in the year.
They are expected to be exhibited in Shrewsbury's new Museum and Art Gallery at the former Music Hall.
The coins were officially declared treasure in 2011.
Shropshire Council said grant funding from several organisations, including the Victoria and Albert Museum, the Association for Roman Archaeology and the Shropshire Archaeological and Historical Society allowed then to be bought for the county.
Emma-Kate Lanyon, of Shropshire Museums, said: "The coins within the hoard represent some of the most commonly found coins from Roman Britain.
"The importance of this find is the sheer number and value they represent."
She said the hoard probably belonged to a wealthy person or community and was buried for safekeeping, although it was unclear why they were not recovered.
The coins, mainly bronze Nummi, were found in layers within the clay jar, with those at the top dating from between 333-335 AD, and the coins at the bottom at least 10 years older.
Phil Scoggins, from Shrewsbury Museum and Art Gallery, said the find suggested the hoard had been added to over a number of years.