Muller UK releases butter plant plans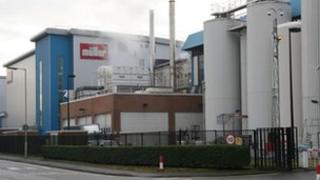 Plans have been submitted for a £17m butter plant in north Shropshire.
The factory at Muller UK's headquarters in Market Drayton is expected to create up to 100 jobs across the site.
A detailed planning application has been lodged and, if approved by Shropshire Council, it could become the biggest butter plant in Britain.
The company, which also owns Wisemans Dairies, said it would process 90,000 tonnes of cream in the new facility, producing 45,000 tonnes of butter.
The plans include the building of 14 new silos, raising the roof on part of the building and two extensions.
One of the biggest food manufacturers in the country, Muller UK said it currently buys about 250 million litres of milk a year from farmers.
It said it would be looking to recruit more milk suppliers from the spring, with the aim of supplying the new plant that is expected to open in the autumn.