Shrewsbury pupils 'at risk' from 999 ambulances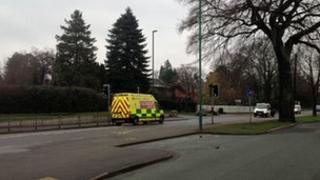 Concerns have been raised about the location of a new Shrewsbury ambulance hub after a near-miss with a child.
The pupil from the Priory School was using a pedestrian crossing on Longden Road when an ambulance on a 999 drove through a red light.
The school said the nearby maintenance hub should not be routinely used for emergency calls.
Mark Gough from the ambulance service said it was taking action to cut the number of deployments from the site.
He said the ambulance service had experienced "some teething difficulties" since moving into the £1.2m hub last month and that 999 callouts should be the exception, rather than the rule.
"I do accept and I do admit that it has become more of a norm.
"However, we are seeking to address that," he said.
"But there will always be the odd occasion when there will be a 999 call close to the hub and if there is a resource there that is the nearest available, it will be sent."
During the planning application, West Midlands Ambulance Service had said the hub would be mainly used for preparing and maintaining vehicles.
Staff at nearby Meole Brace School said they had counted as many as 10 ambulances driving past on blue lights on a single day.
Both the Priory and Meole Brace schools had objected against the planning application due to safety fears.
Up to 2,000 secondary pupils attend the two schools.
Candy Garbett, head teacher at the Priory School, said Longden Road was the wrong place for an ambulance hub, describing it as a "risk to students".
"It's not being used for the purposes for which it got planning permission... it's quite clear it's being used in fact for blue light responses and this could not be a worse road to put it on," she said