Mahatma Gandhi letter to be auctioned in Shropshire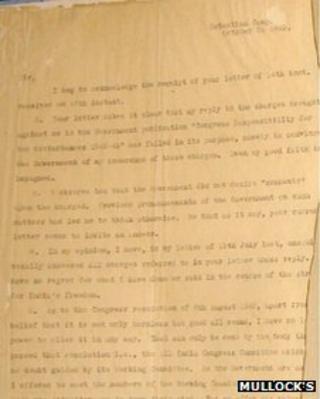 A letter typed and signed by Mahatma Gandhi pleading for his release from detention is to be auctioned in Shropshire.
It was written in 1943 while he was detained in India by British forces.
In the letter to the additional secretary of the government of India he makes a plea for his own and his followers' release.
The auction, held by Mullock's in Ludlow, is on 14 February. The letter is estimated to fetch £10,000-£15,000.
Richard Westwood-Brookes from the auctioneers said the letter was being sold by a man in India who was a freedom fighter with Gandhi.
He said: "We do sell a number of items from India on a regular basis and as a result I was contacted by somebody in India and they sent it to us."
Last year the auction house sold a collection of Gandhi material, including his glasses and prayer book, which Mr Westwood-Brookes called "highly important".
These items are now part of a collection in a national exhibition touring India, and it is expected this latest letter could return to the country.
The letter also refers to the resolution of the All India Congress held on 8 August 1942 and his aim to achieve independence.