Mark's Pit Stop homeless charity finds new base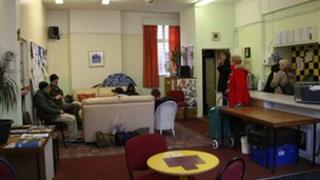 "There were just the two of us at the time. We thought 'have we done the right thing?'
"But once we handed leaflets out and word got around they soon started coming in, and a lot of them are like family now."
Pearl Maiden set up homeless charity Mark's Pit Stop eight years ago in Wellington, Shropshire, with Janet Groves.
It provides food and hot drinks, as well as bedding and clothes to rough sleepers in the area. It also supports people who have been put up in short-term accommodation.
Before Christmas, the charity, which currently feeds about 50 people a week, found that it was itself at risk of becoming homeless.
After an appeal, Mark's Pit Stop has been approached by the Chec Centre in nearby Madeley, offering them room and even a disused cafe.
It is due to move in on 19 February, which will mark the next step in an emotional journey for the charity and its founders.
The Pit Stop was set up after the death of Ms Groves's son Mark, 39, from a heroin overdose in 2004.
Ms Maiden's son had also been a long-term heroin addict and it gave the two women a common bond.
"I'd already mentioned to Janet before we set this up we needed somewhere for homeless people to go. But at the time we didn't have the money," Ms Maiden said.
'Deserting' clients
A collection at Mark Groves's funeral raised £900 which was used to set up the charity within The Salvation Army's Kip Project in Wellington.
She said there was now a greater need to provide support to homeless people and others in Wellington than ever before.
The extra demand, however, is also putting a strain on The Kip Project's own work with homeless people in the area, supplying food parcels and tracking down accommodation.
Over the last two-and-a-half months it has received more than 100 reports of rough sleepers across Telford, during one of the coldest winters in recent memory.
The small offices at Tan Bank have struggled to cope both with the influx of clients and with storage space.
Ms Maiden said: "There's a big need there [in Madeley], because there's Brookside and the surrounding area, where a lot of our clients come from. But I feel so awful about leaving all our regulars here, it's like we're deserting them."
She said, despite being only seven miles away, the cost of travel meant she might not see some of the clients again.
The charity is fighting hard to keep some presence in Wellington and Ms Groves said they were due to visit properties in the town with the aim of possibly opening a second centre.
One of those who is likely to travel to Madeley is 58-year-old Phillip Tarr, who has been a regular at Mark's Pit Stop since it opened.
He has been living in shared accommodation in Brookside for the last 10 months.
"I couldn't handle it at first. I went back on the streets, down at Apley, because I couldn't handle being inside," he said.
"I'd been on the streets for 12 years, living in tents. I've lived on the Wrekin, on the Ercall, on the quarry face.
"I've got arthritis in my knees now. I'm getting old and finding it difficult to cope with the weather, but it's still bad for young people who are on the street, because you've got to be streetwise as well."