Bishop's Castle town hall opens doors ahead of revamp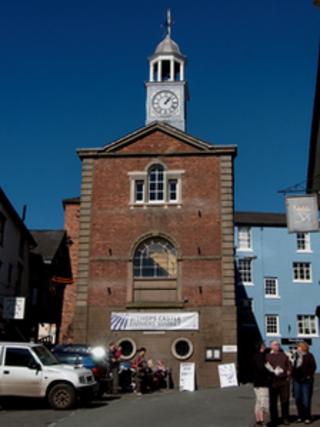 An 18th Century town hall opened its doors so residents could find out more about an £850,000 project to refurbish it.
Work on the Grade II-listed building in Bishop's Castle, Shropshire, will include heating, lighting and new lift.
Project manager Sam Hine said architect Philip Belchere, town councillors and project team members were answering questions at the drop-in event.
The event took place between 16:00 GMT and 19:30 GMT at the High Street hall.
Ms Hine said there were also opportunities for people to get involved in the project.
Residents have been trying to get the project under way for about five years, but in September plans were boosted by a £680,000 grant from the Heritage Lottery Fund (HLF).
'Grand building'
Ms Hine said: "It's not just about the building refurbishment and renovation, it's about getting people interested in the history and heritage."
Heritage events have been planned around the renovation, including costume-making workshops and a drama and film project with college students.
The project has also received funding from Shropshire Council, the town council, Pilgrim Trust and Shropshire Hills Leader programme - an EU and government-funded scheme.
The town hall houses the town council chamber, coroner's court and a weekly market.
Ms Hines said the "grand" building was structurally sound but needed investment and conservation.
"There have been alterations over the years that haven't actually done the building any favours," she said.
"So we need to go right back to put it right and protect it for the next 250 years."
She hopes work will get under way in April.