Greg Davies unveils Wem artwork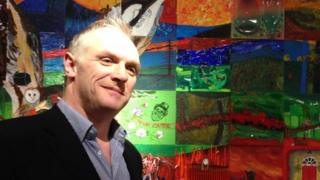 Comedian and actor Greg Davies has returned to the town where he grew up to unveil an artwork containing 104 individually painted squares.
More than 200 people have been involved in the scheme in Wem, including professional artists, children and women from a residential home.
"Part of Wem" was revealed in the town hall.
Davies, who played Mr Gilbert in The Inbetweeners, moved into acting after 13 years as a drama teacher.
One of the squares in the artwork, led by local artist Sarah Evans, was painted by his mother.
The picture and an exhibition which explains how the project came together will be on show at Wem Town Hall until 19 February.