Ironbridge flood alert and barriers remain in place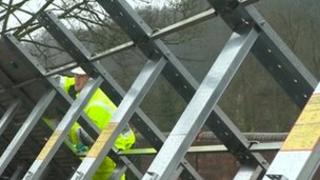 A number of flood alerts remain in place in Shropshire, the Environment Agency (EA) has said.
With more rain expected over the weekend barriers along the River Severn in Ironbridge are set to stay in place for the next few days.
As well as the Severn, the EA has issued alerts for the River Teme, Cound Brook and Rea Brook.
Chris Bainger, from the EA, said although there were no flood warnings residents needed to "remain vigilant".
Mr Bainger added that he was aware of the impact the barriers in Ironbridge were having on businesses with some shop workers claiming trade had been badly affected.
'Saturated land'
"What we're trying not to do is yo-yo the barriers because it stretches resources which are already being pushed," he said.
"There's some work for us to do in Ironbridge so we can open up some access for people a little bit better.
"We thought it [the Severn] was going to get over. It didn't quite.
"We think it may come over again and it's better to protect those properties."
Mr Bainger said that the threat of flooding would linger long into the new year because rivers were quickly reacting to any rainfall.
"It's going nowhere but the small streams.
"The land is absolutely saturated. There's no evaporation in weather like this at all so it's just going straight into those rivers.
"We're seeing the Rea Brook and the Cound all reacting very quickly - the Teme too.
"It's going to rain more today, more over the weekend and you could see rivers rise very quickly."