Ludlow Festival axed over losses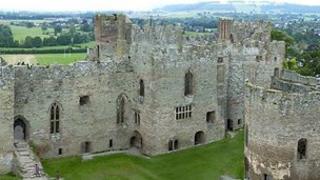 The Ludlow Festival, one of Shropshire's flagship annual events, has come to an end after more than half a century, it has been announced.
The two-week arts festival, which features Shakespearian plays at Ludlow Castle, began in the town in 1960.
Organiser Ludlow Festival Society said it suffered "major losses" this year because of "appalling wet weather".
The society said without public subsidy and faced with increased competition it could not afford to run the event.
Ludlow Festival Society chairman Roy Coles said: "We have had bad weather before but haven't had anything to such an extent as we had this year.
"And of course you have to remember that over the years our popularity has not been as great as it used to be because of competition from all the other festivals that have sprung up around Ludlow over the last 50 years."
'Truly sad'
A statement on the festival's website said it hoped the event, which usually starts at the end of June, could return in the future.
"We hope that, at some stage in the future, a Ludlow Arts Festival will be revived for future generations to enjoy," it said.
The society said trustee directors had "worked tirelessly" since the end of the last festival to explore all other options before making the decision.
"Despite having tremendous voluntary support, but without public subsidy and with increased competition, we no longer have the ready finances to move forward and support a festival for another year," it said.
"Obviously this is not the situation we wanted and we are truly sad to be ending such an historic and established festival," it said.