River Severn voyage 'to highlight environmental problems'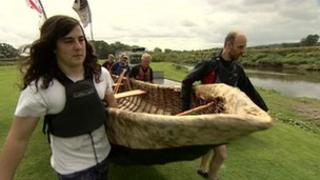 Conservationists have taken to the River Severn to raise awareness of its environmental problems.
The eight-person crew, from Shropshire Wildlife Trust, are paddling a traditional currach 70 miles, from Edgerley to Hampton Loade.
The trust said the four-day journey would offer a different perspective on the river.
The team is posting updates on the various issues the river faces on both Twitter and Facebook.
John Hughes said the Severn was being put under increasing pressure.
Trust anniversary
He said: "We're taking more water out of it, but we're also putting more pollutants into it in terms of fertilizers and pesticides, outflows from septic tanks, things like that.
"We all use about 100 litres of water every day, and that's got to come from somewhere.
"So the river is under pressure and its wildlife is under pressure."
The journey is also marking the 50th anniversary of the trust, and the fact the Severn has gone through big changes since 1962.
'Rapid decline'
For example, the trust said that within the last 35 years eels, once common in the Severn, have declined by as much as 70%.
It also highlights other species, such as otters, kingfishers, sand martins, lamprey and crayfish, whose populations have also been affected.
Rivers officer Pete Lambert said the trust was taking steps to stop the "rapid decline" of brown trout on the Severn and its tributaries.
"We're putting plants in the water to create a variety in the river bed," he said.
"We're also excavating new backwaters and further up the river we're looking at opportunities to introduce gravel [used to lay eggs] in the brooks."