Neen Sollars flood-damaged bridge stays shut to traffic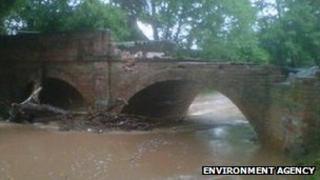 A bridge which partly collapsed during severe flooding is to stay closed to traffic so repairs can be carried out.
Rea Bridge, which stands over the River Rea in Neen Sollars in Shropshire, has re-opened to pedestrians and cyclists.
During heavy rain and floodwater on Saturday the river was about 20ft (6m) higher than normal and part of the Grade II listed bridge fell away.
Shropshire Council has said the foundations were not damaged but extensive repair work needs to be done.
It said its contractor, Ringway, had put up temporary fencing to make sure people stick to the centre of the bridge and away from the damaged edges.
Workers will clear debris from the river over the next week and will carry out repair work once plans are drawn up.
The council said it had estimated the bridge would be shut to vehicles for up to three months, and traffic would be diverted along an alternative route.