Tribute to Shropshire flood victim Michael Ellis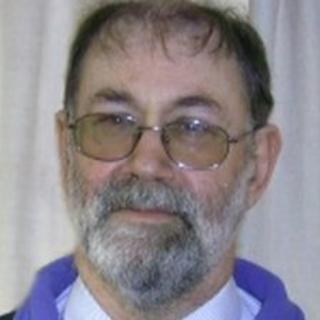 The wife of a man who died after being swept away in a flooded stream in Shropshire has paid tribute to her "wonderful husband".
Police said former teacher Michael Ellis, 66, was on his way home on Thursday morning when he got caught up in rising flood water in Bitterley.
Emergency crews said he had been unable to keep driving due to water levels and tried to walk but was swept away.
Mr Ellis's wife, Judith, said her husband "was truly my other half".
His death came as flooding affected several areas when two storms, which began in Wales, grew stronger with one heading across the Midlands and the other heading northwards to Newcastle and into Scotland.
'Quick wit'
Rail lines were blocked, thousands were left without power and people had to be rescued from their homes and vehicles as the torrential rain came down on Thursday.
Police said Mr Ellis was found by police and firefighters following an extensive search but they were unable to save him.
Mrs Ellis said: "He was a gentle, caring man, quiet and quite shy, with a quick wit and a wonderful sense of humour. He was the most wonderful husband.
"He was truly my other half and I don't know how I can be without him."
Mr Ellis was deputy head teacher at Ludlow School, where he had previously been head of maths. After he retired, he became county treasurer for Girlguiding Shropshire.
His wife added: "We married in 1973. At the time we were both teaching in Sandhurst and he was leading Scouts and I was Guide leader, so it was natural for us to work together.
"He set challenging activities for my guides at camp and this continued after we moved to Shropshire."
A post-mortem examination was due to be held on Friday.